A survey on Lipids Guidelines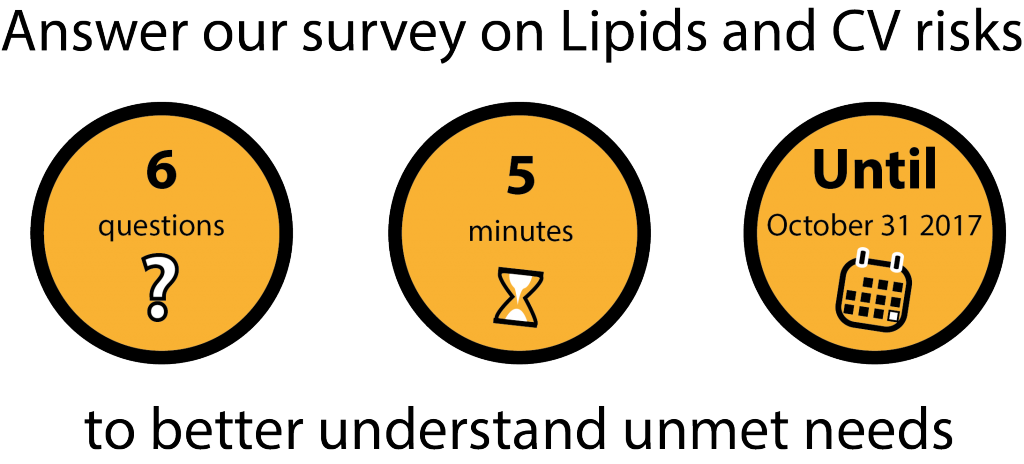 Why a Lipids and CV risks Guidelines Forum?
Negative noises on statins therapy regularly hit the headlines generating confusion and discontinuation of treatment leading to increased risk of MI and cardiovascular death. We believe, adverse events should not be minimized and a dedicated TMA forum is already planned to better address statin associated muscle symptoms. Patients' empowerment must be an objective to support share decision-making with their physicians, improve compliance and confidence. Translational approaches should lead to collaborative initiatives to help reaching this goal. Practical tools are much awaited to better integrate patient perspectives, needs, and priorities.
The objectives of the Forum will be,
In depth discussion between academic experts, authorities, and industry (in pre-Forum discussions) about lipid therapy guidelines' optimization with expected patients improved disease management
To identify gaps in treatment
To develop particularly "field guidelines" that are applicable to ethnically and racially diverse populations with different co-morbidities and lipoprotein profiles
To assist in the development of risk equations for specific geographies/populations therefore identifying genetic profiles to better understand responsiveness to statins and other lipid altering therapies
To help countries that do not yet have their own data to establish their own guidelines
To take advantage at every country level of knowing the differences in cardiovascular risk and risk factors between the continents
To raise patient empowerment and education as a rule for better compliance
To improve the development and utilization of guidelines
The Translational Medicine Academy (TMA) is an international academic Foundation with focused activities in mission critical areas of high public health importance having significant professional and patient therapeutic and educational gaps.
 TMA Foundation:
Charles Schoen – Tel.: + 33 (0) 6 08 18 77 08 – E-mail : charles.schoen@tmacademy.org
Anne-Sophie Squiban – Tel.: +33 (0) 74 52 37 09 – E-mail: annesophie.squiban@tmacademy.org