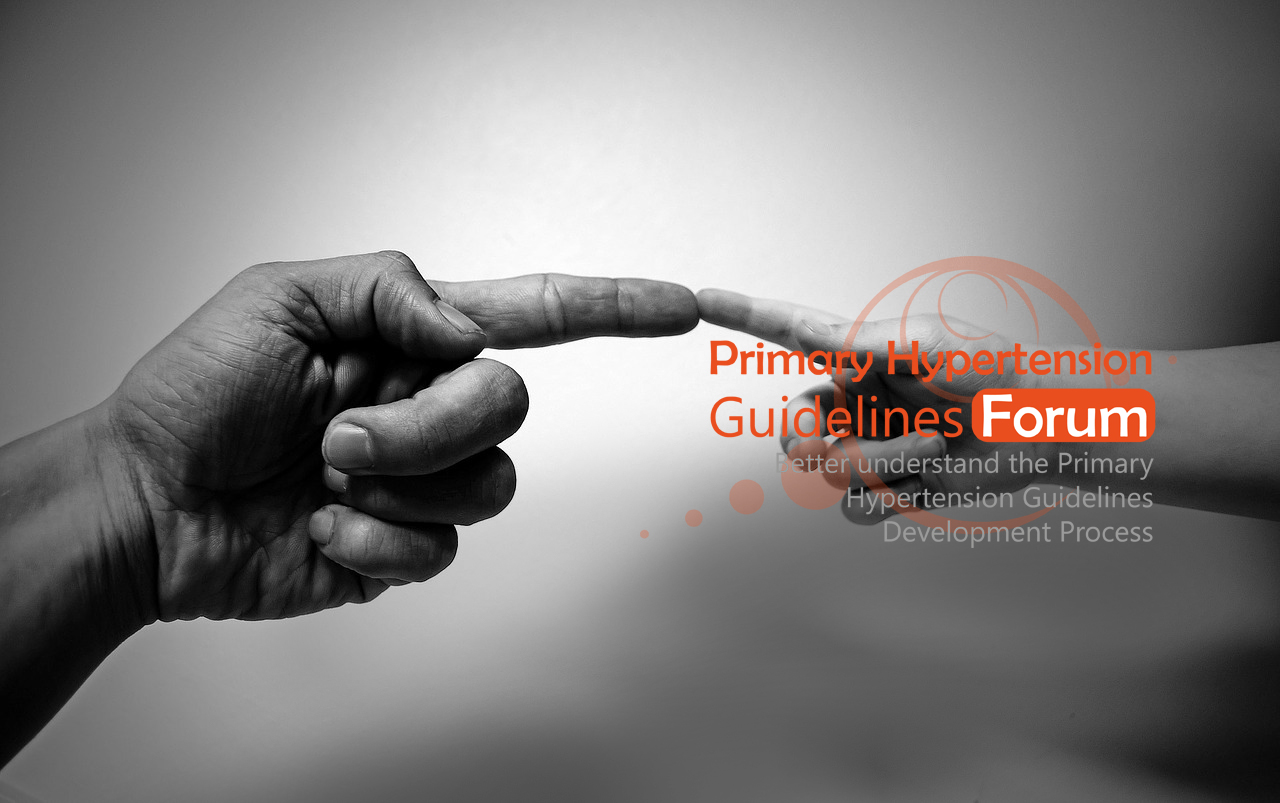 Primary Hypertension Guidelines Forum
All around the world, many chronic diseases are a burden for health systems and their management still needs to be improved.
In most cases, the guidelines that are developed to improve outcome from taking care of hypertension are very academic and have little interest to primary care physicians. However those doctors are, in most countries, the principal treating doctor that a patient with a hypertension, comes into contact with.
Accordingly, the process of guidelines elaboration needs critical improvements because of the lack of adherence of healthcare professionals and patients to their best practices.
TMA focuses activities in mission critical areas of high public health importance having significant and documented professional and patient educational gaps, and has created a Mission Area Project (the Hypertension Guidelines Forum) to be held by March 2017.
Most recently hypertension (SPRINT and HOPES publications), has lived major shakes, creating the urgency of a Primary Hypertension Guidelines Forum
Why a Primary Hypertension Guidelines Forum ? 
Hypertension is the most common condition seen in primary care and the leading risk factor for cardiovascular disease globally. It affects more than 1 billion adults worldwide. Two recent trials SPRINT and HOPE-3 provide evidence to reinforce some current guideline recommendations and to influence future guidelines.
Treating people without cardiovascular disease who have a systolic blood pressure above approximately 140 mm Hg appears to be beneficial, but treatment would not be of benefit and may be even harmful in patients with lower systolic blood-pressure levels. Thus, a higher systolic blood pressure at baseline may be decisive in determining whether small reductions in blood pressure reduce risk.
The experts discuss how the current data help us to guide decisions about blood-pressure levels for the initiation of antihypertensive agents in patients at low or moderate cardiovascular risk who have mild uncomplicated hypertension. The uncertainty surrounding this important question is reflected in recent U.S. and European guidelines and these latest results bring new insight regarding the initiation threshold and treatment targets for blood pressure–lowering medications.
Considering diagnostics and monitoring, smartphones are now being used as biosensors and wearable devices enable patients to measure almost any health parameter at home. These innovations are just a beginning. In the next years, many patients will probably start sporting wristwatches that continuously and passively capture their blood pressure and vital signs with every heartbeat. Novel technologies are developed to allow development of armband systems to estimate BP using pulse transit time (PTT) obtained from ballistocardiogram (BCG) and photo-plethysmogram (PPG) signals. These technologies may have a significant impact in patient empowerment in the field of hypertension. Moreover we know that single values of blood pressure do not tell the whole story and monitoring the blood pressure during 24h might be a more precise way to diagnose hypertension. Experts discuss how these upcoming innovations are going to impact practice and how guidelines and recommendations will embrace the field.
Therapeutics is also a moving field with renal denervation and new drugs development. Pathophysiological basis exists for interruption of the renal sympathetic nervous system as a treatment for hypertension, recent data, device development, and trials in progress, should provide recommendations for future trial design and guideline recommendations.
Treating comorbidities such as diabetes and dyslipidemia remains also a daily challenge for physicians. There is an apparent discrepancy between SPRINT and an earlier trial, ACCORD, which failed to demonstrate that more intense blood pressure treatment was beneficial in a diabetic patient population.  Experts should wonder how generalizable are SPRINT results in this perspective? Recommendations for diabetic patients might necessarily rely on expert opinion rather than a firm evidence base. The most recent issues will be addressed during this meeting.
General information
Registration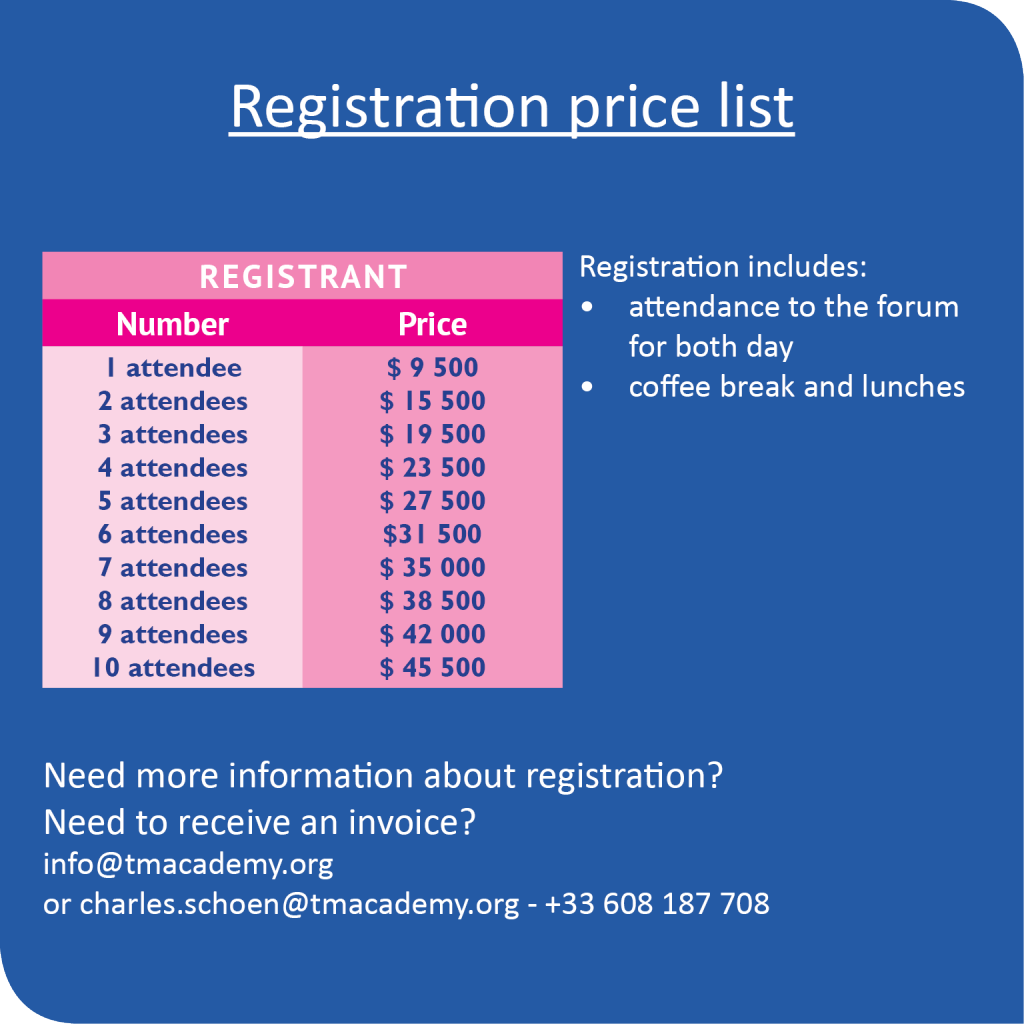 TMA proposes three levels of potential sponsorship for this FORUM:
Platinum Sponsorship: Up to 5 attendees at the Forum, 2H30 session exclusive sponsor, exclusive sponsor of a 2017 symposium at a major congress to disseminate the conclusions of the Forum: 145 K €.
Gold sponsor: Up to 5 attendees at the Forum, exclusive sponsor of a 2H30 session, dedicated program of Webinar animated by top KOLs, exclusive sponsor of 2 post conference newsletters sent to 50 000 pre-listed healthcare specialists in the field with logo: 80 K €.
Silver sponsor: Up to 3 attendees at the Forum, sponsor of a 1H30 session, sponsor of the post conference Video highlights to 50 000 healthcare providers with logo: 50 K €.
 Contact us to finalize your participation as sponsor. 
For individual attendees' registration contact TMA. 
On demand programs
For any special deliverable, or event please contact us:
TMA Foundation:
Charles Schoen – Tel.: + 33 (0) 6 08 18 77 08 – E-mail : charles.schoen@tmacademy.org
Anne-Sophie Squiban – Tel.: +33 (0) 74 52 37 09 – E-mail: annesophie.squiban@tmacademy.org