Practical information – Biosketch  and program
Why a Multiple Sclerosis Guidelines Forum?
The objective is to better understand the existing Multiple Sclerosis guidelines development process and its implications in clinical practice. It is not to develop new guidelines, but to gather a multidisciplinary panel of leading international experts to discuss the latest evidence, ongoing research and controversial issues that have implications for the development of clinical practice guidelines.
All around the world, many chronic diseases are a burden for health systems and their management still needs to be improved. In most cases, the guidelines that are developed to improve outcome from taking care of these diseases are highly academic and have little interest to doctors, including neurologists. Those doctors are, in most countries, the only treating doctor that a patient with a chronic disease comes into contact with.
Accordingly, the process of guidelines elaboration needs critical improvements because of the lack of adherence of healthcare professionals and patients to their best practices.
The objectives of the Forum will be,
To have an in depth discussion between experts and industry about MS therapy guidelines optimization for the common interest of stakeholders during a closed meeting
To create a multi-stakeholders discussion Forum
To focus on most advanced knowledge
To identify gaps in treatment
To improve the development and utilization of guideline
To develop particularly "field guidelines" that are applicable to ethnically and racially diverse populations with different co-morbidities
To develop risk equations for specific geographies/populations
To define genetic profiles for specific geographies/populations to better understand responsiveness to therapies
The Translational Medicine Academy (TMA) is an international academic Foundation with focused activities in mission critical areas of high public health importance having significant professional and patient therapeutic and educational gaps.
General information
Registration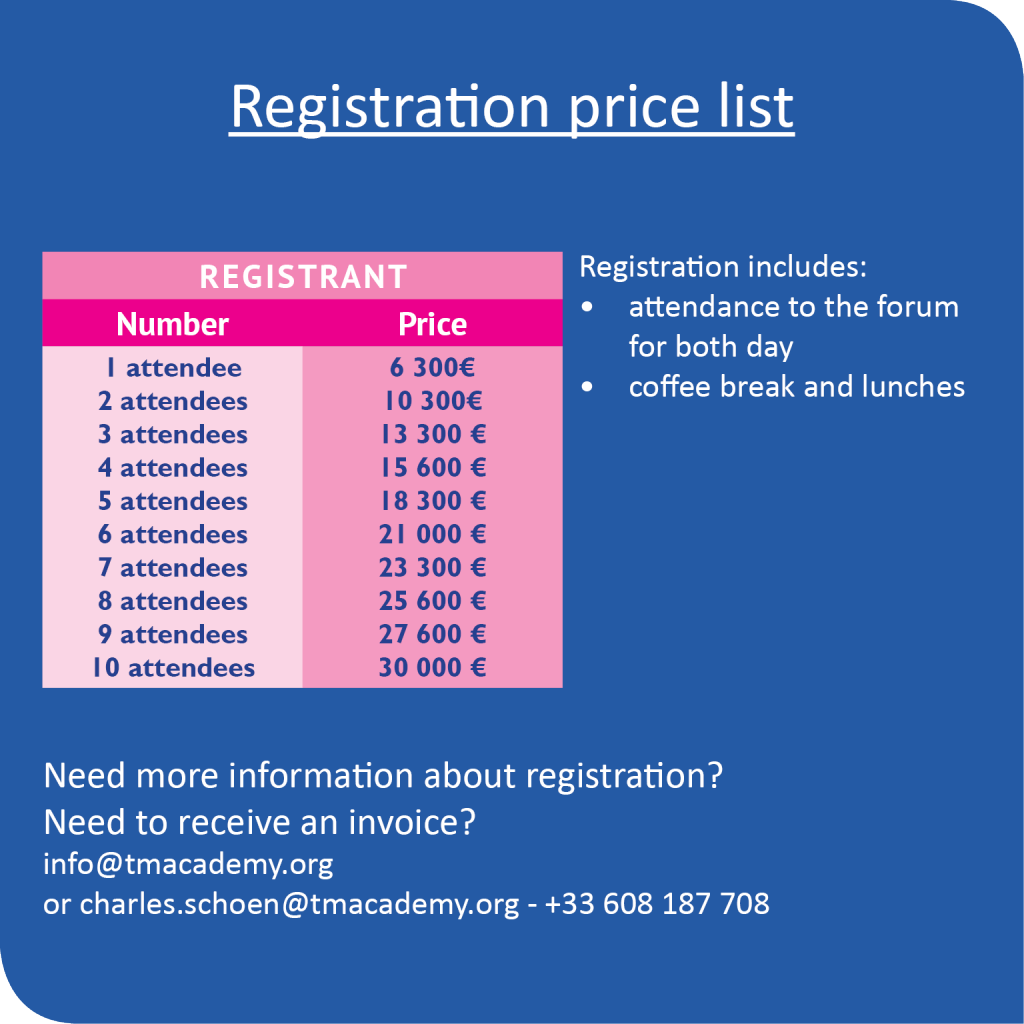 TMA proposes three levels of potential sponsorship for this FORUM:
Platinum Sponsorship: Up to 5 attendees at the Forum, acknowledgment at the Forum, 5 questions submitted for Q&A session, 2018 Symposium at Ectrims to disseminate the conclusions of the Forum: 150 K€.
Gold sponsor: Up to 5 attendees at the Forum, recognition as gold sponsor, 3 questions submitted for Q&A session, one dedicated webinar, 1 post conference newsletter sent to 5 000 pre-listed specialists: 50 K€.
Silver sponsor: Up to 3 attendees at the Forum, recognition as silver sponsor, 2 questions submitted for Q&A session, Video highlights to 5 000 healthcare providers with logo: 30 K€.
 Contact us to finalize your participation as sponsor. 
For individual attendees' registration contact TMA. 
On demand programs
For any special deliverable, or event please contact us:
TMA Foundation:
Charles Schoen – Tel.: + 33 (0) 6 08 18 77 08 – E-mail: charles.schoen@tmacademy.org
Christian Schoen – Tel?: + 33 (0) 6 85 10 60 59 – E-mail: christian.schoen@tmacademy.org
Anne-Sophie Squiban – Tel.: +33 (0) 74 52 37 09 – E-mail: annesophie.squiban@tmacademy.org