Program and speakers' biographies
Why a TMA consensus building Forum on Statin Associated Muscle Afflictions?
Statins have consistently been shown to reduce cardiovascular events, and their continued use remains the standard of care, especially in high-risk populations. Unfortunately, statins have side effects that make them intolerant to 10 to 20 percent of individuals. Statin intolerance is associated with more hospitalizations for cardiovascular events in patients previously hospitalized for myocardial infarction. The most common and reproducible manifestation of statin intolerance results from statin associated muscle complaints (SAMS). In order to reduce cardiovascular morbidity, reduce the burden of medical costs and improve the quality of life for patients who are intolerant to statins, the major objective of this conference is to collaborate on clinically relevant and validated tools for the identification of SAMS that are useful for patients of different ethnicities, races and regions of the world; develop clinical algorithms that provide a rationale and evidence-based approach to the re-introduction of statins; and provide guidance based on peer-reviewed manuscripts and published reports for the use of non-statin cholesterol lowering therapies.
This conference includes Forum members to offer their reviews of professional society consensus statements with the specific goal of establishing useful consistent terminology and clinical algorithms with standardize definitions which will improve communication among researchers, clinicians, and others working in this important area.
General information
Registration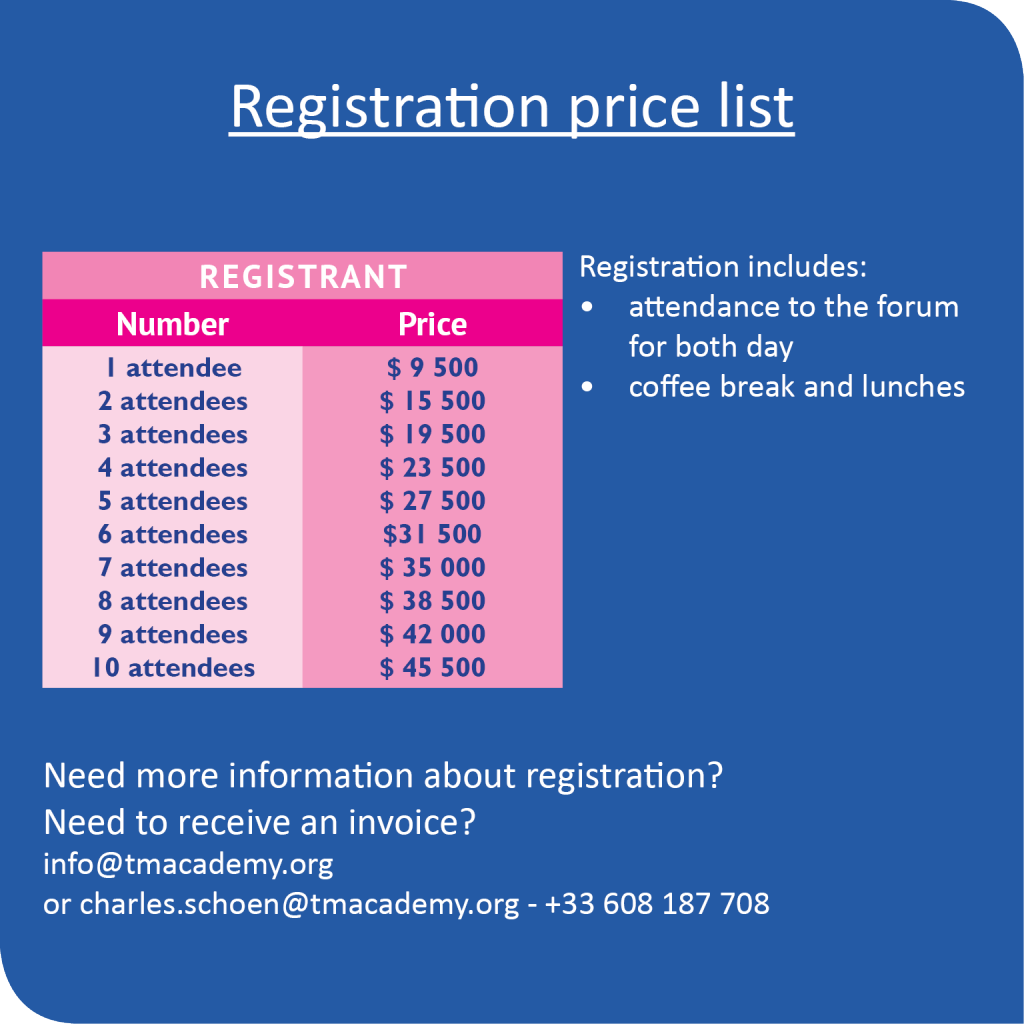 Sponsorship Packages for this FORUM: TMA proposes three levels of potential
Platinum Sponsorship: Up to 5 attendees at the Forum, 2H30 session exclusive sponsor, exclusive sponsor of a 2017 symposium at a major congress to disseminate the conclusions of the Forum: 145 K €.
Gold sponsor: Up to 5 attendees at the Forum, exclusive sponsor of a 2H30 session, dedicated program of Webinar animated by top KOLs, exclusive sponsor of 2 post conference newsletters sent to 50 000 pre-listed healthcare specialists in the field with logo: 80 K €.
Silver sponsor: Up to 3 attendees at the Forum, sponsor of a 1H30 session, sponsor of the post conference Video highlights to 50 000 healthcare providers with logo: 50 K €.
 Contact us to finalize your participation as sponsor. 
 TMA Foundation:
Charles Schoen – Tel.: + 33 (0) 6 08 18 77 08 – E-mail : charles.schoen@tmacademy.org
Anne-Sophie Squiban – Tel.: +33 (0) 74 52 37 09 – E-mail: annesophie.squiban@tmacademy.org
Check out our next events
And have a look to our latest