WHY A STROKE PREVENTION AND MANAGEMENT GUIDELINES FORUM®?
The objective is to better understand the existing stroke guidelines development process and its implications in clinical practice. It is not to develop new guidelines, but to gather a multidisciplinary panel of leading international experts to discuss the latest evidence, ongoing research and controversial issues that have implications for the development of clinical practice guidelines.
The burden of stroke is of major importance for global public health. In 2013, according to the Global Burden of Disease study, there were 10.3 million new strokes (including 67% of ischaemic strokes [IS], 6.5 million deaths from stroke (51% from IS), 113 million DALYs due to stroke (58% due to IS) and almost 25.7 million stroke survivors (71% with IS). In the United States, stroke accounted for approximately 1 of every 20 deaths; on average, every 4 minutes, someone died of a stroke. Globally, the proportional contribution of stroke-related DALYs and deaths due to stroke compared to all diseases;
Clinical practice guidelines and associated implementation strategies are essential to promote optimal, evidence-based practices in stroke prevention and management.
General information
Download the preliminary program
Registration price list :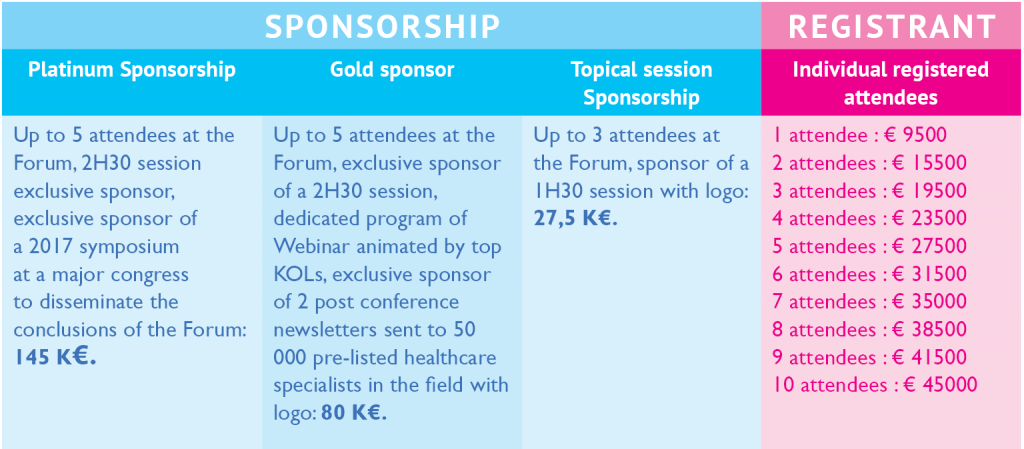 Ask for invoice:
 Contact us to finalize your participation as sponsor. 
Conditions of sales
Cancellation Fees will apply as of receipt of the confirmation for sponsorships and registrations as follows:
10% from 26 August 2016 to 31 October 2016
50% from 01 November 2016 to 31 January 2017
100% from 01 February 2017
On demand programs
For any special deliverable, or event please contact us:
TMA Foundation:
Charles Schoen – Tel.: + 33 (0) 6 08 18 77 08 – E-mail : charles.schoen@tmacademy.org
Anne-Sophie Squiban – Tel.: +33 (0) 74 52 37 09 – E-mail: annesophie.squiban@tmacademy.org